Litecam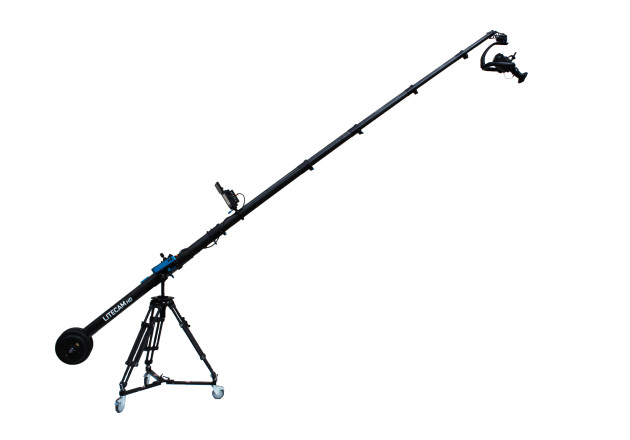 The litecam is a single operator carbon crane with a 3-axis hot head.
The Litecam is a lightweight carbon modular crane from 2.60m to 7m, specifically designed for a single operator.
The carbon boom, with a diameter of only 10cm, no cables and a very small 3-axis remote head is extremely low profile and in most cases almost invisible to other cameras.
The Litecam, with a back length less than 1.5m and a 1 square meter foot print, fits into places usually forbidden to traditional cranes.
The operator can engage an array of electronic assistance and advanced functions which enable him to shoot with a precision, fluidity and dynamism impossible to achieve with traditional single operator cranes.
The Litecam is specifically designed to be used in a live broadcast multi camera layout with fast and easy setup, mobility, fully HD equipped, data link with OB Van via Coax BNC, IP Based or optical fibre.
The Litecam runs on low voltage (12v) and may be used on batteries without local power.
The Litecam, when fitted with light cameras like Red Epic, Canon C300 or C500, Arri Alexa Mini or Sony F55, is the perfect tool for most motion picture shoots.
Advanced functions
All head and lens parameters are accessible to the operator via touch pad.
All set ups and advanced functions can be assigned to shortcut buttons
Parameters for speed, damping, acceleration, deceleration, position memory are accessible (including zoom and focus)
A proprietary OSD allows the operator to position over the PGM video feed all axis range and position, zoom and focus indexes, advanced functions status etc…
Pan, tilt and zoom compensator :