HEADCAM M3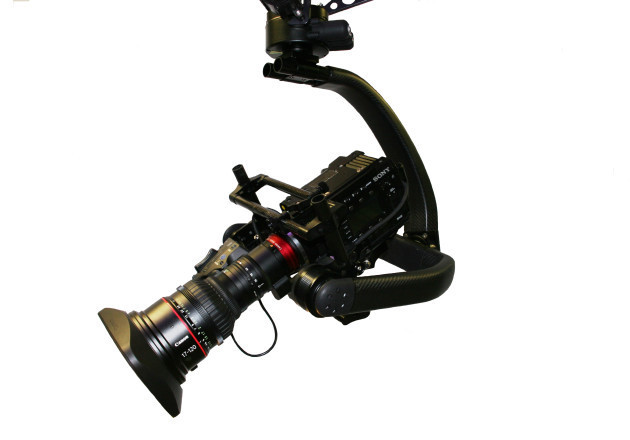 Headcam M3 is a carbon structure 3-axis gyro-stabilized head and is the lightest stabilized head in its class.
Precise mechanical engineering coupled with an array of possible electronic assistance and advanced functions enable the operator to shoot with unprecedented precision and fluidity.
The head has an automatic PID loop tuning function for fast and easy setup.
The Pan axis is fitted with an HD slip-ring allowing for unlimited pan rotation as well as automatic back pan.
The head can be over slung or under slung from Mitchell or euro coupling mounts.
The Headcam M3 is specifically designed to be used in a live broadcast multi camera setups (fast and easy setup, mobility, fully HD equipped, data link with OB Van via Coax BNC, IP Based or optical fiber).
It is compatible with cameras like Red Epic, Canon C300/500, Arri Alexa Mini or Sony F5/55 and capable of controlling external drive motors which makes them the perfect tool for most motion picture shoots.
A color touch screen user interface allows access to each axis and lens parameters.
Speed, damping, ramp up and down, end stops, position memories are all adjustable (including zoom and focus).
A proprietary OSD allows the operator to position over the program video feed all axis range and position including zoom and focus indexes and advanced functions status.
Pan, tilt, roll, zoom compensators as well as set ups and advanced functions can be assigned to shortcut buttons.
All axis position (including zoom and focus) can be memorized and recalled on demand with absolute precision. The operator may recall pre-established shots or zoom and focus positions even in the dark.
The operator control stations may be run on 12v batteries for up to 8 hours.
Microfilms machines can communicate using wireless link, IP Network or BNC Coax cable (1000m).
Wireless links allow machines in specific environment where cables are not welcomes like speed track, cablecam or remote locations.
Control over Internet Protocol (COIP) allows machines to communicate over a Ethernet network and opens many new possibilities.
Several machines can be controlled from a single operator control desk.
Machines control data can be transported over an existing Ethernet infrastructure (cable or optical fiber).
Machines can be easily integrated into an IP based remote production setup.
Machines can be easily integrated into and controlled from a production control room.
Communication over Coax Protocol (COCP) allows data transport up to 1000m over Coax BNC cable, the easiest cable to find on a TV or movie set.
All Canon, Fujinon, Angenieux lenses and Preston motors digital protocol are integrated in the machine's proprietary software ensuring stable and precise control.
All Sony, Grass Valley, Canon, Hitachi camera data protocol are integrated into the machine's software and transported to the control desk.
Microfilms converters can convert any machine, lens or camera data into wireless, IP, optical fiber or Coax BNC protocol.